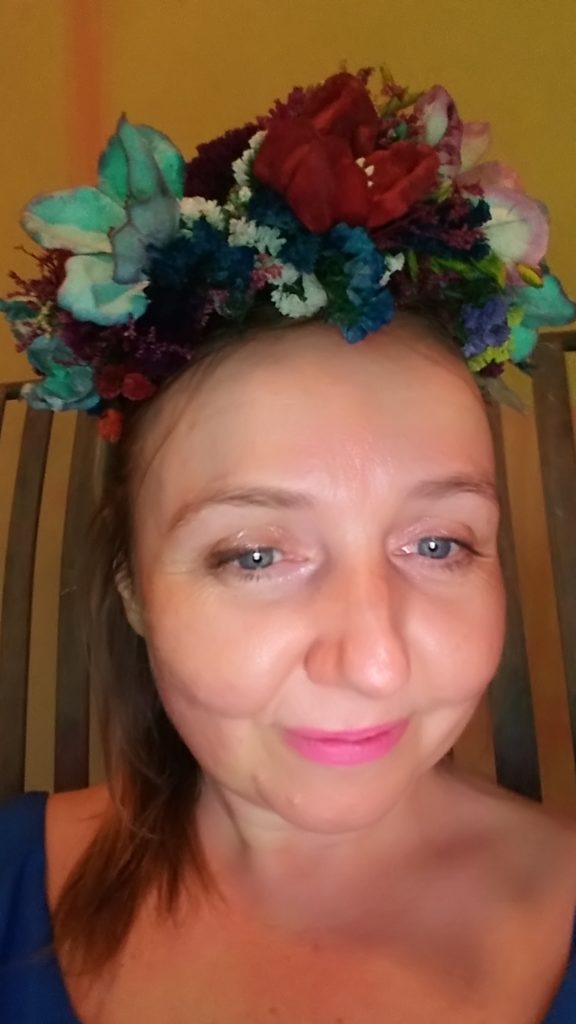 I am the Queen of self-care in my life.
I know that when I take care of myself, I can take care of the world around me.
Yesterday in conversation with a couple of my clients I found myself explaining that the best way to handle change with calm and confidence is to begin by prioritizing self-care.

It took me 10 years to arrive at that realization and I am still learning and experimenting with how to be a number 1 priority for myself. I have to make it a daily intention.
By sharing my self-care practice I hope to inspire you to create your own, but keep in mind that there is no one size fits all practice. The season, your personality, and the phase of life you are currently in will dictate what your self-care practice will look like.
My self-care practice will not be the same next year as it is today, and it may not be the same as someone who is a parent or someone else who is in a committed relationship.
Below is my daily, weekly, monthly, and yearly flow for self-care.
DAILY
Morning Ritual (45-60 Minutes)
I usually wake at 6:00 AM, but in the winter and during my period, I may sleep until 7 or 8 AM.
Each day begins with 5-10 minutes of quality time with Oreshka, my cat who almost always is sitting on my chest long before I wake. We snooze together until I'm fully awake and ready for my morning meditation practice. Meditation became an important part of my ritual after my 40th birthday.
In the kitchen I feed Oreshka, put on the kettle to prepare my French-press coffee and ease into my daily ritual which includes diverse spiritual teachings and practices. I light a candle, burn some policante and bring my coffee to my meditation cushion. After, I take shower and make breakfast.
The routine may change if I travel or have guests but the spiritual ritual is always part of my morning even if I have to shorten it sometimes.
I check my phone after breakfast or during, depending on the day. After breakfast, I get ready for the day ahead and go to the office.
End of Day
I finish my day with a shorter version of the morning ritual as I am usually sleepy at the end of the day and have less energy. Bed time is usually between 10-11 PM. Most of the time I keep my phone away from my bed and set the alarm clock.
WEEKLY
Health & Fitness
Usually 3 physical activities, it can be dance/swim or a combination. I also walk a lot whenever I can. I cook once or twice a week to ensure I have healthy & delicious food prepared for myself. I love eating well & healthy, food brings me a lot of joy.
Social Life
I have 3-4 social outings with friends & work related activities.
Downtime
I watch Netflix once or twice per week to unwind. But mostly, I read.
MONTHLY
Each month I make sure to include activities and experiences that will bring me closer to nature and the activities that will inspire other important areas of my life.
Activities that Ground Me
2 dates with nature such as going to the beach or a park. In warm weather I hike once per month.
Activities that Inspire Me
1 Art event, exhibition, workshop unrelated to my business.
Dating if it is on the agenda
Activities that Feed my Spirit
2 spiritual events
YEARLY
When I think about how to get the most out of each year I plan ways to ensure I continue to grow personally and professionally. I also make sure to create space in my life for the people I care about and for creative expression.
3-4 planned trips
1 Creative project
A new skill I want to learn
2-3 fun dinners or gathering with friends
YOUR SELF-CARE PRACTICE
Below are the steps you can take to develop a self-care practice that fits your current lifestyle and the phase of life you're in.
Step 1 Have the courage to say to yourself, "I am important and worthy enough to become a priority."
Step 2 What will it take to create balance in 'your' life? It's important that you don't create a practice based on mine or someone else's needs. Begin by understanding your emotional, mental, physical, and energy needs to make you feel healthy, happy & content.
Step 3 Each week take time to plan your self-care and know that it may not happen 100% as you planned it, and that is okay. You have another week and you can always adjust your plan. Aim to do less and be more consistent. Eventually, you won't need to plan, it will become a part of your life.
Step 4 You may have a self-care routine already, but not realize it. For example, I walk a lot and for me it is a part of processing my day. I talk to the trees.
Step 5 Life constantly changes. Be flexible and realistic, your routine can be altered if needed.
Finally, as with all things, remember this is a continuous journey, there is no final destination, but the rewards can be reaped daily, weekly and yearly.
---