You know how a mother is supposed to love all her children equally and not pick favorites? Well, as an iDEA COACH, while I do love all my clients equally, I have decided that once a month I shall pick a favorite! Last month we featured Elyse Brandau.
Every month I will highlight one project/iDEA that has been deemed a success by my client – for after all if they are happy, then mam is happy too!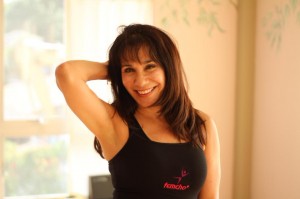 And so the iDEA LEADER of March 2012 (drum roll)  Tina De Lemps, The Founder of FEMCHO.
Janelle Ballack one of the team members of BE AN iDEA LEADER conducted an interview with our March iDEA LEADER!  Thanks Janelle for the fantastic work.
Here is an interview!
JB: Thank you very much for speaking with me.
TDL: You're welcome, it's my pleasure.
JB: What does FEMCHO stand for?
TDL: FEMCHO is an acronym for feminine, energetic, mindful, cool, healthy and original.
JB: What inspired you to create FEMCHO?
TDL: What happened was I was always interested in Fitness, don't be scared it's my third decade, I believe and I worked primarily with women all of these years, I love working with women and soon I started training their daughters or working with their daughters, sometimes their daughters and I started to find out more about girls. I see that girls have so many more opportunities to be whoever they want to be, to live whatever herd of live, especially in America of course, things that were really not readily enough available when I was growing up. But at the same time I noticed that these girls have literally the same insecurities, body issues, self esteem issues but sometimes worse because many times with the media they're competing with images that aren't even theirs? So I've decided to create a program that would be fun and that would combine fitness and tool coaching so the girls could talk; we call it forty minutes of fitness, twenty minutes of girl talk and a lifetime of confidence.
JB: How rewarding does it feel to see results with these teenage girls?
TDL: I have to say it's the most rewarding thing I have ever done in my career and the more we give, the more we get back. First of all when we put the music on, it's only the music that these girls love and we do work with some young girls as young as six all the way up to seventeen. When we do a FEMCHO class we ask of them what are their favorite artists, what songs do they like to dance to, so it's already about them. And when we start moving and dancing it's kind of like an ice breaker because when you start moving and dancing and I'm sure you've been in classes, you feel looser and more comfortable with people. So when we start asking them, because we don't teach we ask, what does it mean to you, let's say to be cool? What's cool about you? What does it mean to be healthy? They tell us what it means, what it means to be a good friend? And the things…the pearls of wisdom that comes out of their mouths just blows us away, just amazing. It's very gratifying and of course on a fitness level, with the obesity epidemic, I feel that we're getting these girls moving and having fun doing it.
JB: That's really great; I wish I had that when I was younger.
TDL: (Laughing) Everybody says that.
JB: Can you describe your process with Marina Romashko?
TDL: Marina is…I don't know if I could have gotten FEMCHO of the ground without her, that's how wonderful I think she is. Marina worked with me on a project before FEMCHO so I was understood by her. And basically how Marina worked with me is that I have a lot of creative ideas but I don't always have any structure and the ability to plan, how to take steps to make it happen and so I came to Marina with this idea and she helped me to set a timeline, who to hire, how much money I might need to raise to get it off the ground and I still work with her now. We're looking to FEMCHO to where we're going to start doing licensing, like where people get certified to do ZUMBA or other programs. And just yesterday I worked with Marina on setting a goal, what city we wanted to do it in, the time line and now she's helping me take the steps necessary, she stays on top of me (chuckling) to really make it happen.
JB: That's really great. Is there anything else you would like to add?
TDL: I feel so wonderful working with the girls and soon would want to do it women because people all the time, like you just said, hey I wish that I had this when I was younger and I think a combination of women exercising together then having a topic, how to get a business of the ground, organize your life or a beauty expert that keep the class structured that way, that can be a lot of fun.
---